The Wearable Sensorial Diary was created during a workshop collaboration is Parsons Paris, Audi, and co-working space NUMA in Paris. The team, Niki Selken, Enrica Beccalli, Ezgi Uçar, Birce Özkan created a working prototype of wearable tech in under a week.
Process
The workshop was 5 days, 14 MFA Design & Technology students, 2 professors, 1 mentor from Audi, and 1 Parisian co-working space (NUMA). During a weeklong workshop, graduate student teams developed speculative concepts around notions of the Metaverse, a term describing what the Internet and its related cultures and technologies will evolve into over the next 10-15 years. Visiting Art, Media and Technology Associate Professor David Carroll discusses how the project unfolded
Fashionable Technology is a hot topic and there was no better place perhaps than at Parsons Paris hosted by NUMA to explore a future of wearable devices that augment our memories with sensory sensors that can record sensations beyond sight. Call it Sensory Design. What if we could record our tastes and smells and save them for later to re-saveur? Look no further for a project that had to be born in Paris. It was the unmistakable taste of Proust's madeleine in Swann's Way that inspired this group to direct their practice toward this techno-literary object of futurism and futuring. A Metaverse beyond sight and sound, this one illustrates new modes of emotional experience and encounter.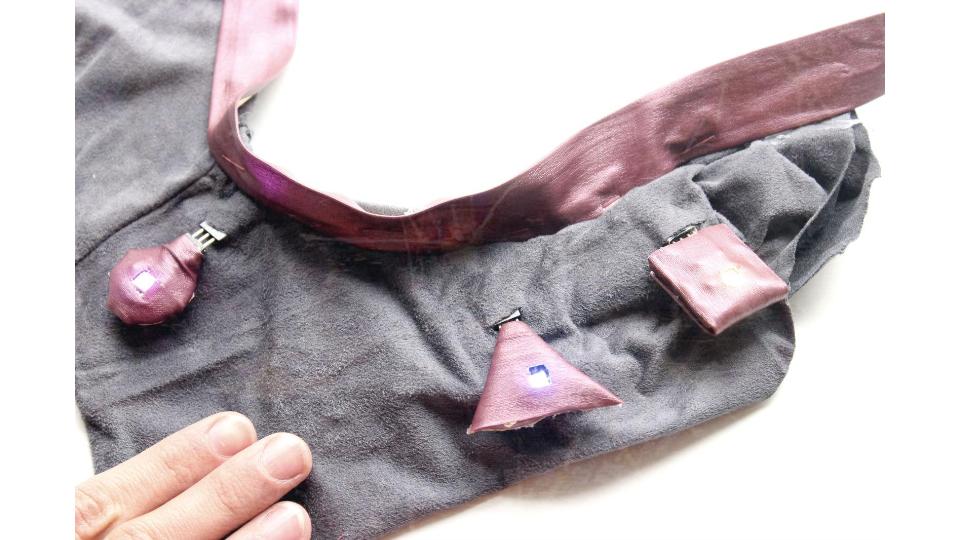 Concept
The Wearable Sensorial Diary (WSD) emerged as a the solution to this question of expanding the way we interact with the Metaverse beyond the screen. We wanted to examine the potential of wearable technology as a tool for capturing memories and moments in new ways. We envision a future where one could capture and share tastes, scents, and sounds with a simple movement or just by leaning in for a hug with a friend. Our diary prototype has three detachable, light up "sensors" which represent, touch, scent and sound. The sensors are designed as three easy-to-feel shapes, so weather the user is sighted or bind, they could distinguish between them. Those sensors can be shared and traded with friends who also have the WSD to expand the reach of sensory memories. We aim to create physical connection with the digital and marry tangible memories with nearly intangible senses and simple objects.
The WSD is a piece of wearable tech that was created using a Flora board, a proximity and light sensor, a small battery, Slide Switch, Neopixels, carefully crafted wiring, coding with Arduino, and fabric. You can review the code on Github.